ECOMMERCE ONLINE COURSE | START OCT 11TH '23
Fashion E-commerce Management Course
Fast track your career in digital fashion and acquire the skills you need to work in the contemporary fashion industry. Learn from senior experts from world class fashion and luxury brands.

Fashion Ecommerce Management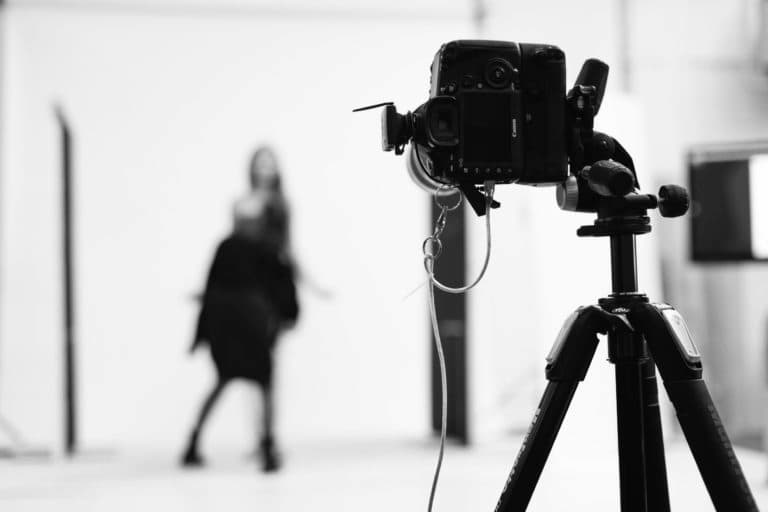 A unique, relevant and industry-facing fashion e-commerce course, for graduates and professionals who want to learn in-demand skills to build a career in the digital sector of world-class fashion brands.
Course Overview
Drawing on expertise from leading senior professionals, you will learn the essential skill set that will allow you to successfully manage a full e-commerce business in the fashion and luxury industry.
Benefits
✔ Become a certified Digital Fashion Professional (DFP) in a growing industry
✔ Gain the knowledge and skills that will enable you to work in fashion e-commerce, direct-to-consumer, e-wholesale and fashion digital marketing divisions at the highest level.
✔ Learn in-depth fashion e-commerce management skills. (e.g. how to structure a business plan for e-commerce, how to organise E-commerce and how to manage an e-commerce team)
✔ Study and work on creating and managing digital marketing strategies, campaigns and SEO projects.
✔ Gain a thorough understanding of fashion e-commerce store management, merchandising, finance, e-commerce platforms, payments, logistics and legal,
---
KEY FACTS
FORMAT
⇢ Part-time in Virtual classroom
⇢ On-demand recordings available
COURSE DURATION
⇢ 15 weeks
START DATES
⇢ October 2023
CERTIFICATION
⇢ Professional Certification
⇢ Exam fee included
LOCATION
⇢ Online live lessons
---
Who should take this course?
This course is for graduates and professionals who want to start or grow their career in the digital divisions in the fashion industry.
✔ Graduates in business studies, economics, marketing and communication and similar degrees
✔ Junior professionals working in the e-commerce departments of fashion brands and e-tailers who want to acquire a broader set of skills and fast-track their career
✔ Mid-to-senior managers in the fashion industry who need to expand their set of skills integrating traditional fashion expertise with digital and e-commerce skills
✔ Professionals seeking a career change
✔ Senior professionals in the fashion and luxury industries who want to acquire a deep understanding of the processes that make online sales successful and profitable
✔ Entrepreneurs or business owners looking to expand the online business to a regional / global audience
What our students say

"Great Digital Fashion course, covering all the digital pillars of a fashion company, such as finance, marketing, logistics, website, CRM, privacy, legal, product, price… and high qualified teachers with years of experience in fashion market.
Really interesting also the workshops with concrete cases in fashion environment."
Benedetto, Digital Marketing Manager
"I recommend this course to all those who are interested in pursuing a career in digital and also to those who already occupy managerial positions, both for the variety of topics covered (a 360-degree view) and for updating on the latest tools and market trends.
Enrico and his team are extremely helpful and very clear in their exposition, all the speakers are very qualified."
Martina, Ecommerce Merchandising Specialist
"A Fashion Academy that offers a wide range of courses using a team of professionals with decades of experience. Specifically, the course in Ecommerce management for fashion was rich, complete, suitable both for those who are approaching the digital world and for those who are already part of it.
Definitely recommended for those who want to deepen and enrich their skills and knowledge."
Gabriella, Ecommerce Manager
Read more reviews of on Google
Course program
Module name and description
Introduction to Fashion Company Organisation & Product Lifecycle

In this first module we provide the essential notions of Fashion business models, market structure, brand positioning and product lifecycle. This module is optional for fashion and luxury industry professionals and mandatory for other participants.
Fashion E-commerce Strategy & Organisation

In this module you'll learn how to elaborate an e-commerce business plan for a fashion business, plan a roadmap to achieve the goals established in the business plan and alternative business models and how to make decisions about which activities to insource or outsource to reach your financial targets.
Analytics & Business Intelligence

In this module you'll study the KPIs utilised by fashion companies to track performance of the digital channels and you'll learn how to use some of the analytics tools utilised by fashion companies for analysing performance of digital campaigns. We will also look at the most recent Artificial Intelligence platforms used for predictive analytics.
Customer Relationship Management

In this module you'll study the strategies and techniques that fashion companies apply to create customer satisfaction and loyalty. This module covers both strategic and technological aspects of CRM.
Essential Legal Aspects of Fashion E-commerce

This module provides the essential knowledge of international Privacy Laws such as GDRP, e-commerce consumers rights and fiscal aspects to run cross border e-commerce in compliance with local and international law.
Fashion -commerce Operations & Logistics Management

In this module you'll acquire the essential knowledge to coordinate and oversee e-commerce operations which include: logistics management, shipping, customer service and online payments.
E-commerce Store Management

In this module you'll acquire the essential skills to implement a Commercial Plan for your e-commerce, track sales and performance of your online store, manage the Buying and Merchandising processes and manage a fashion E-commerce website, design and optimization.
Technology for Fashion E-commerce

In this module we'll provide you with an overview and understanding of the E-commerce platforms most frequently used by fashion companies such as Adobe Commerce, Shopify and Salesforce. You'll also learn about other technology generally adopted by fashion brands for their e-commerce infrastructures such as Marketing Technology tools, Product Information & Asset Management, Order Management Systems & AI Applications.
Finance for Fashion E-commerce

In this module we'll provide you with an overview and understanding of the Budgeting process, Financial planning and financial performance tracking of online fashion business. From Gross Revenue to profitability analysis you'll learn how large companies structure the budget, cost controls and financial KPIs
Digital Marketing for Fashion E-commerce

This module we'll provide you with the knowledge about the digital marketing strategies, techniques, tools and best practices adopted by best-in-class fashion and luxury brands
Omnichannel Commerce for Fashion & Luxury

This module covers the essential processes of Omnichannel commerce and Omnichannel Digital Communication including Digital in store applications and Omnichannel customer care.
Internationalisation of E-commerce

In this module you'll learn about Cross border e-commerce management, doing e-business in foreign markets such as the Far East, Middle East and Africa. You'll learn about Marketplaces and other relevant digital sales channels; how to satisfy local markets customers via localisation and optimisation of the websites for cultural differences.
Workshops with a fashion brand

The participants will work in groups to apply the learnings to a real case study and they will discuss the plan they'll create with the founders of the brand. The workshops will entail e-commerce strategy and financial planning, digital marketing and operations strategy. They will be carried out step by step throughout the course.
Course teachers
In this course you will be learning from senior professionals who currently work in Digital Fashion. All our teachers have backgrounds that span across world-class fashion & luxury brands, agencies with clients in the fashion and luxury industry and global technology players who provide solutions for fashion brands.
Filippo Chiari, Global Director Analytics and Insights
Chiara Davanzo, Brand, Communication & Content Director, Storeis
Andrea di Nicolò, Ebusiness, Omnichannel and Digital Marketing Director
Marco Di Pietro, Entrepreneur, Strategic Advisor
Enrico Fantaguzzi, Fashion & Luxury E-commerce consultant
Marcello Messina, Senior executive in Fashion & Luxury International Retail
Raffaele Nardo, Senior Director E-commerce, at Assos
Enrico Franco Roselli, Entrepreneur and Former CEO at La Martina
Methodology
Digital Fashion Academy online training methodology is based on a pragmatic approach that aims at providing students with a working knowledge and practical, in-demand skills.
Thanks to the experience of the professionals teaching, all the lessons contain fundamental notions that you need to know for working in this sector.
The lessons and workshops are structured according to a results driven approach which generally entails describing what the outputs of the role or function are, how to measure the performance through KPIs and metrics and how to ensure the highest quality in the results.
Course and skills certification
Digital Fashion Academy offers you the opportunity to certify your skills and become a certified Digital Fashion Professional (DFP Certification). We have developed this certification exam in collaboration with Fashion brands, Digital Professionals, Agencies and Associations. The exam fee is included in the enrolment fee for students.
Competence model
Our competence model represents the set of skills that are considered essential to the role of Digital Fashion Manager.
You will cover a 360° view, from business skills in the commercial area, to the understanding of technology, to how design influences sales performance.
The four circles in the centre represent these areas of study:
Fashion industry specific knowledge and rules
General management: management and organisation
E-commerce Management: strategy, performance and innovation
Digital Marketing: Brand Communication, Performance Marketing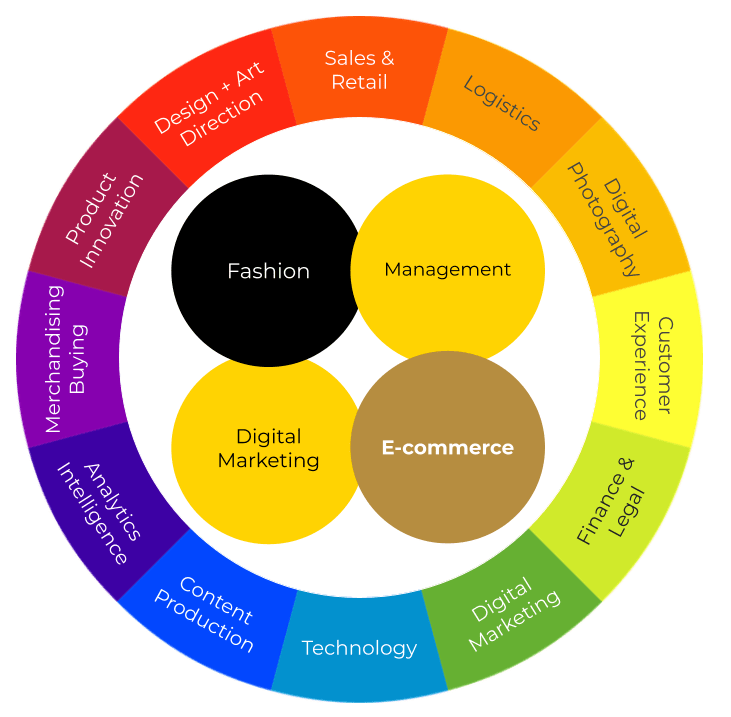 Digital Fashion Academy competence model © 2023
Career opportunities
This course is created with the aim of providing up-to-date skills to access the current digital job opportunities in the fashion and luxury business. The course also prepares you to obtain the Digital Fashion Professional (DFP) certification.
Professionals
Convert your expertise from traditional to digital
Upgrade your skills for digital fashion and luxury business
Discover best practices and success case studies
Graduates
Learn from world-class fashion digital professionals
Gain exclusive opportunities of work placement and internships
Access exclusive content, interviews and training material
Fees
The full rate of this course is 2.450 Euro. Please contact us to enquire about a payment plan.
For companies
Contact us for bespoke solutions for digital training of your personnel
Contact us for recruitment & selection of digitally-skilled people
In-company training services available
For graduates and professionals
Fill out the form below to book your place in the course or request more information
If you are interested in a scholarship to fund your course, please follow apply link and fill out the application. In the description you can state that you are interested in "sponsored training".
---
Find out more!
Find out more about the Fashion E-commerce management program. Download the brochure here below or set-up an online meeting with the Course Director who will answer all your questions.
---
FAQs
If I miss I live lesson can I have the recording?
Yes, the recording is available in the personal area of each student "My Account".
Is it possible to have a scholarship to fund the course?
Yes, there are several scholarships available to fund up to 100% of your study. If you are interested in a scholarship to fund your course, please follow apply link and fill out the application.
Is there a certificate at the end of the course?
Yes, there is a certificate of attendance with your final score and the possibility to take the full digital skills DFP certification exam by Digital Fashion Academy. The cost of the certification exam is included in the price.
Request information
Please fill out the form below to submit your application or to request more information.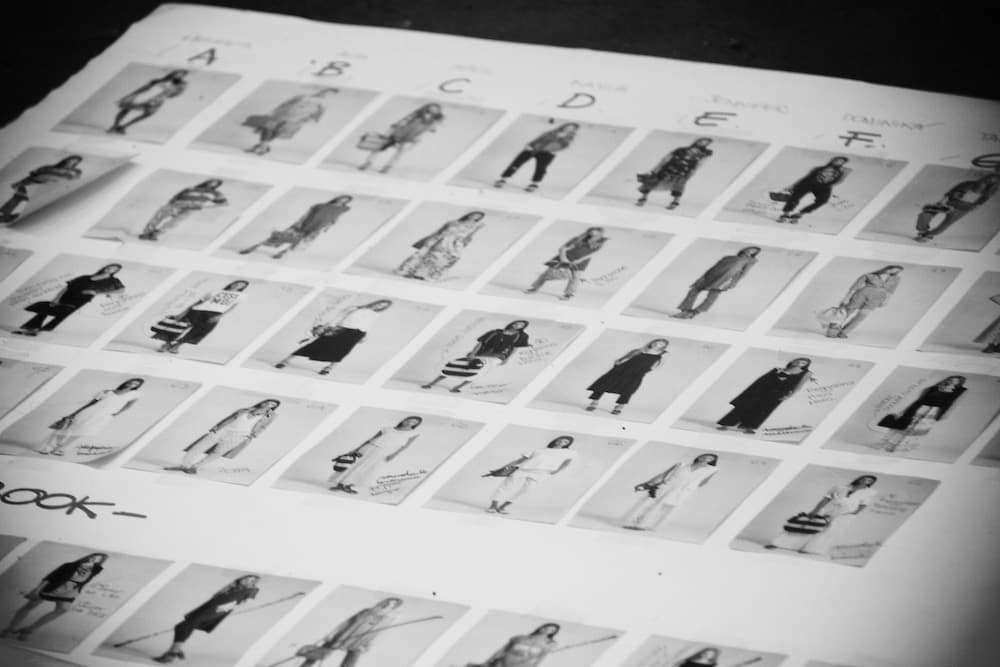 Never miss an update
Sign up to our mailing list and receive updates on training programs, job opportunities and free resources.