Fast track your career
Graduates & Junior fashion professionals
Digital Specialists or Coordinators who need to broaden their knowledge outside their function
Fashion Tech Professionals
Acquire high level digital skills and state-of-the-art practices to drive company growth with digital transformation
C-Levels
Acquire high level digital skills and state-of-the-art practices to drive company growth with digital transformation
Digital Fashion & E-commerce Courses
Learn from the leading senior professionals who work in Fashion and Luxury companies, consulting firms, digital marketing agencies and system integrators specialising in e-commerce for the Fashion Industry. Our courses focus on the fashion e-commerce value chain activities.
✔ E-commerce strategy and organisation
✔ Financial planning and controlling
✔ E-commerce logistics, payments, customer service
✔ Customer Relationship Management
✔ Digital Marketing, Search Engine Marketing, SEO
✔ Social Media marketing
✔ Business Intelligence and analytics
✔ Omnichannel, marketplaces, internationalisation
Digital Skills Certification
Digital Fashion Professional (DFP) Certification
Digital Fashion Academy offers you the opportunity to certify your skills and become a certified Digital Fashion Professional (DFP Certification). We have developed this certification exam in collaboration with Fashion brands, Digital Professionals, Agencies and Associations. The exam fee is included in the enrolment fee for students.
Competence model
Our competence model represents the set of skills that are considered essential to the role of Digital Fashion Manager.
Starting from business skills in the commercial area, to the understanding of technology, to how design influences sales performance.
The four circles in the centre represent these areas of study:
Fashion industry specific knowledge and rules
General management: management and organisation
E-commerce Management: strategy, performance and innovation
Digital Marketing: Brand Communication, Performance Marketing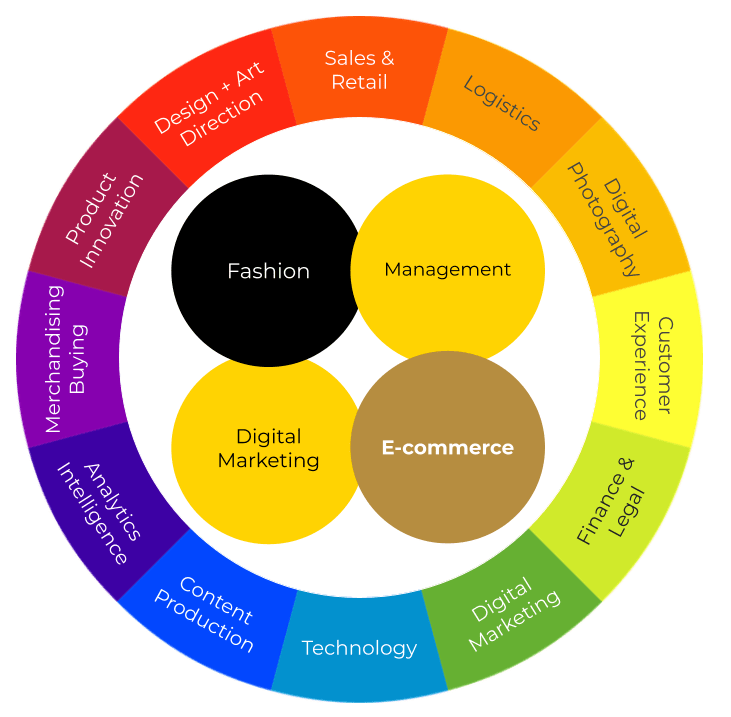 Digital Fashion Academy competence model © 2023
Scholarships
Are you looking for a way to fund your studies?
Digital Fashion Academy offers scholarships in collaboration with our partners for funding the attendance of the Fashion E-commerce Management courses
Full scholarships are designed for graduates and partial scholarships are available for junior professionals with up to two years of experience.