Digital Fashion Professional Certification
Take the exam to be a Certified Digital Fashion Professional
Digital Fashion Professional (DFP) Certification
Digital Fashion Academy offers you the opportunity to certify your skills and become a certified Digital Fashion Professional (DFP Certification). We have developed this certification exam in collaboration with Fashion brands, Digital Professionals, Agencies and Associations. The exam fee is included in the enrolment fee for students.
---
KEY FACTS
COMPETENCE MODEL
⇢ Knowledge areas
⇢ Processes
⇢ Knowledge Diagram
PROFICIENCY LEVELS
⇢ Elementary
⇢ Intermediate
⇢ Advanced
ADAPTIVE TESTING TECHNOLOGY
⇢ Developed with Arca24 HR Tech
⇢ DFA Proprietary solution
CERTIFICATION
⇢ DFP Certification
⇢ Exam fee pay
LOCATION
⇢ Online live lessons
---
Competence model
Our competence model represents the set of skills that are considered essential to the role of Digital Fashion Manager.
Starting from business skills in the commercial area, to the understanding of technology, to how design influences sales performance.
The four circles in the centre represent these areas of study:
Fashion industry specific knowledge and rules
General management: management and organisation
E-commerce Management: strategy, performance and innovation
Digital Marketing: Brand Communication, Performance Marketing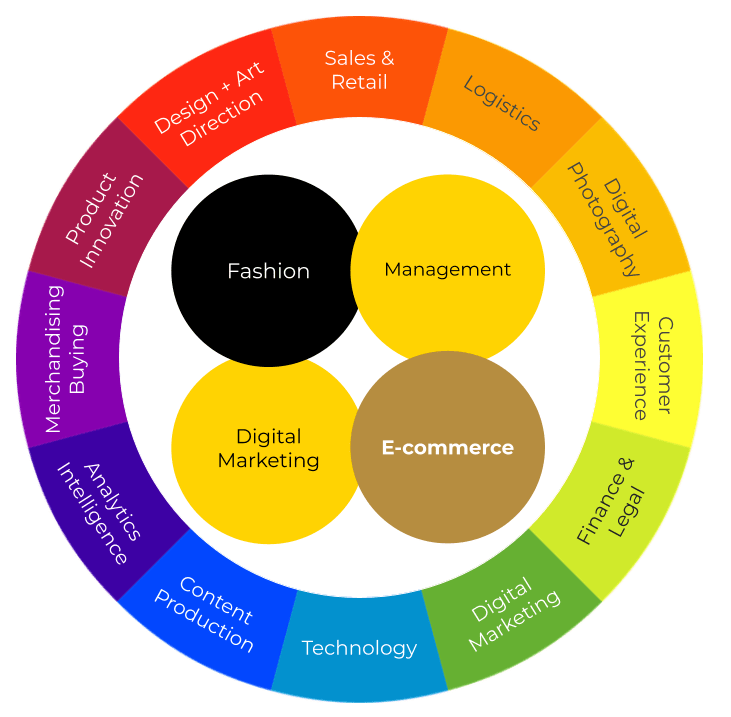 Digital Fashion Academy competence model © 2023
Proficiency Levels
Levels of digital skills
Digital Fashion skills are classified into proficiency levels. DFA divides skills levels into three categories: basic,
intermediate and advanced. A person typically needs to acquire basic skills before moving on to intermediate or advanced skills, however skills are also divided into functional areas, therefore one person can be advanced in one area and basic in another functional area. For Example one can be advanced in digital analytics but basic in Information Technology.
The DFP Certification sums up the results of proficiency levels in all the different areas included in the certification assessment and returns total level. Adaptive testing technology
Developed in collaboration with Arca24 the HR tech partner
Buy a token to take the exam
The token will give you access to a calendar to book the appointment to take the exam online.