Summary
---
The search engine optimisation for fashion brands requires an important effort to create high quality content and to improve the technical aspects of the website that are important to search engines such as site speed and mobile optimisation. However the results of search engine optimisation have important benefits for fashion websites:
More traffic to the brand website
Better brand reputation
Advertising costs saving
Longer extended positive effects of SEO activities
---
Why is Search Engine Optimisation important for fashion?
Search Engines brings organic traffic to fashion websites and the organic traffic is free by definition.
The majority of internet users utilises a search engine to find a website even if they know your website. Even if the know the website url e.g. www.gucci.com they are more likely to type Gucci into the serach engine and click on one of the results. If your website e.g. www.mybrand.com is at the top of the search results page (SERP) you will receive more traffic and you have more chances to receive free traffic (Organic).
Is the space on the internet endless?
Some people say that the Internet is different from the physical space of bricks and mortar stores i.e. the streets, because in the Internet the problem of limited available space does not exist. It's not entirely true. Let's think of a famous real street like via Montenapoleone in Milan, Italy. In via Montenapoleone the number of spaces available for luxury brands stores is fixed. There can only be a certain number of stores and the spaces go to the higher bidder. You can think of the SERP as a famous shopping street, where if you want to get a space in the best position you need to pay, in the same way if you want to be at the top of the SERP in the Adverts. And if you want to be in the first page organically you need to optimise your website to get there because the number of websites that can be shown on the first page of Google is fixed.
"We all work to be on the first page of Google" and if possible in the first positions of the first page.

Digital Fashion Academy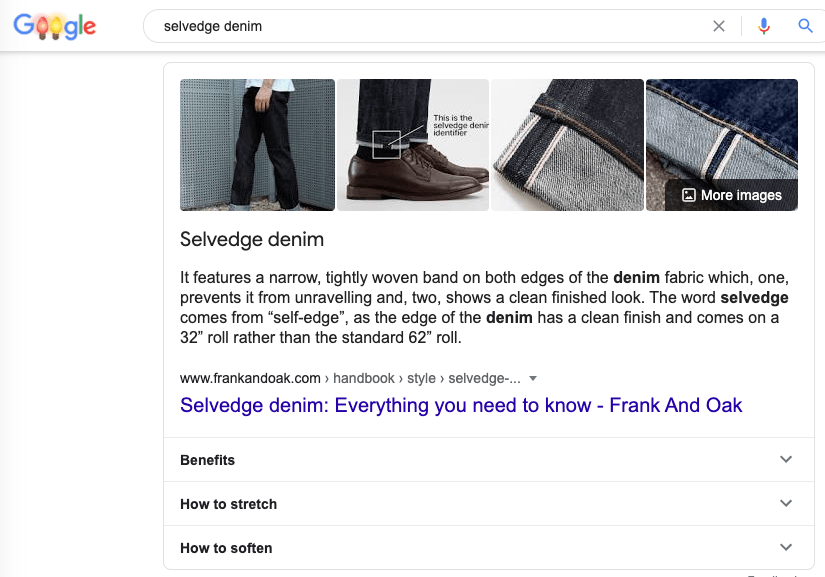 What are the main benefit of SEO for fashion brands?
With a good SEO your website will stand out from the crowd, it will get more visibility thus increasing brand awareness.
The higher ranking in the SERP for the brand's keywords and long tail keywords will generate marketing spend savings that can be invested in other marketing activities
Organic traffic from search engines is usually high converting traffic, which means you'll have more sales for your website.
The results of Search Engine Optimisation require an important effort but generally last for a long time.
How much organic traffic should I have on my website?
An healthy percentage of Search Engine organic traffic is around 30% of the total traffic of a fashion website, and in terms of sales from organic channel it should be in line with the traffic percentage. You can monitor the organic traffic and revenues from the Acquisition report in Google Analytics The organic traffic generated by search engine it's non-paid traffic by definition and therefore extremely important to have.
My website is N°1 on Google for brand's keywords why should I invest in Google Ads?
Even if your website ranks N°1 on SERP organically, you will always have several adverts above your website which could capture the clicks of your potential customers. There are different types of ads that will appear above the organic results, these are the Google Shopping ads and the Google Paid Search Ads. You should invest in both these type of ads to maximise your chances to acquire qualified traffic. However Google is not interested in making it easy for brands to get organic traffic as Google generates revenues mainly from advertising sales. That's why the space dedicate to advertising at the top of the page has increased significantly in size in the past years.
How to know if my product or brand is among the first places?
The first thing to do a search, but not a search as you would do everyday: before you search you have to open a "clean window" of a browser and then search on Google for your brand or product. If you don't open the Incognito window the results you will get will be biased and you may have the impression to be top of the page, while you are not.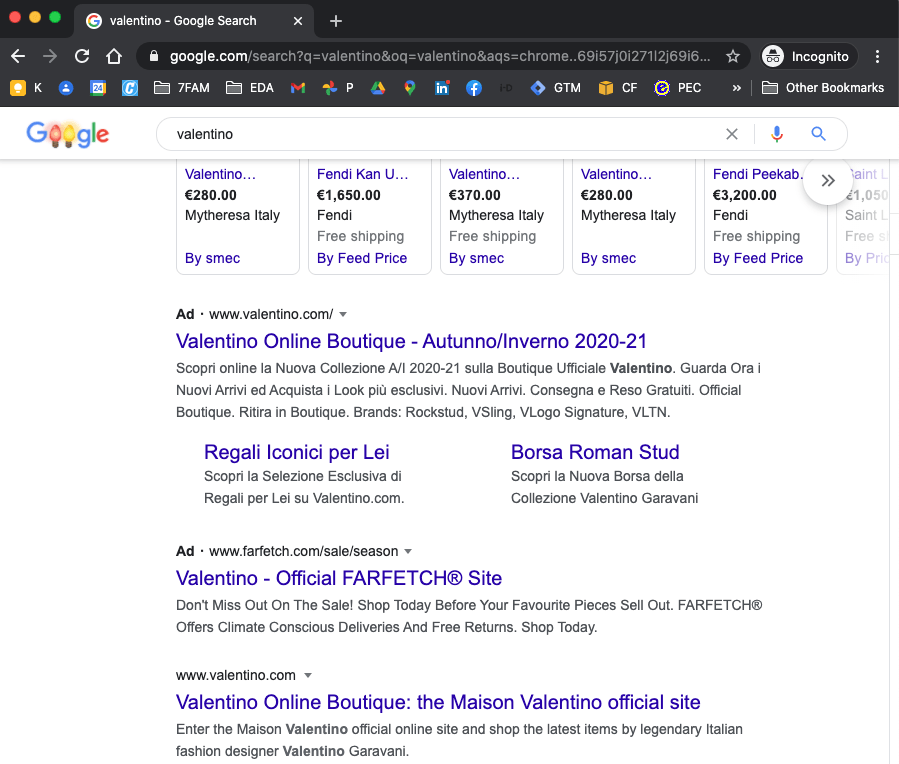 On the search results page the paid results will appear first on top, preceded by a box containing the word "Ad" which stands for a paid advertisement and immediately after the so-called organic search results. It is important to be present in both.
How to do an SEO check up of your site?
There is a free tool from Google that allows you to check your health and monitor the progress of the search engine that is called Google Search Console. To activate it you have to go to https://www.google.com/webmasters/tools/home?hl=en and add a property ie your site. It is a very simple configuration that every ecommerce or digital manager must know how to do it. You should ask him/her to do it.
Go to Google Search Console: https://search.google.com/search-console/about
Follow the instructions to configure your website on Google Search Console
Start with looking at the Performance report (image below), click on Average Position checkbox with is unchecked by default
Scroll down to view the keywords related to your brand and the performance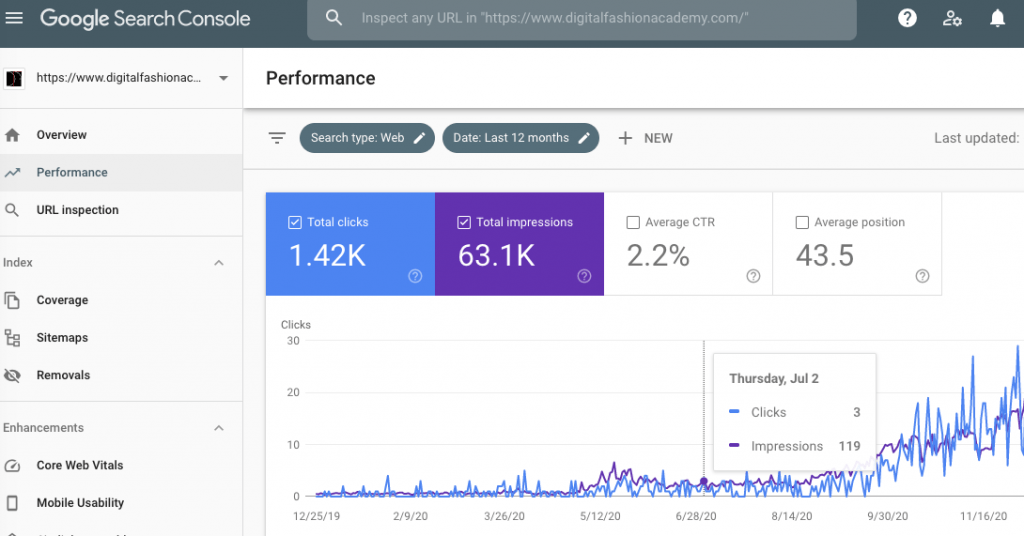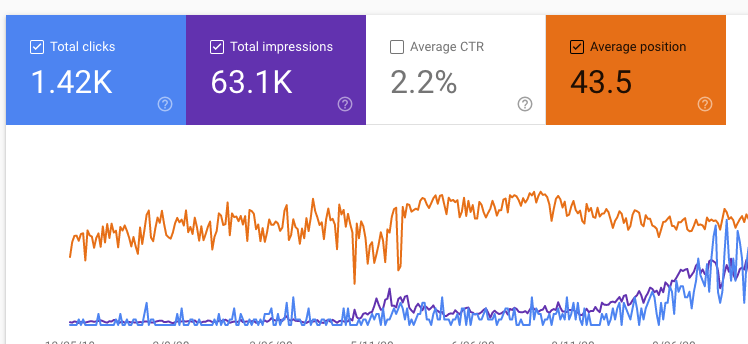 What results should we expect from a SEO project?
There are specific KPIs that you can use to measure SEO results:
Growth of organic visits on the site. You can use Google Analytics, that is free, or other web analytics tools to measure this KPI.
Improved average position in search results for relevant keywords. You can use the Google Search Console to track the ranking of your website for the relevant keywords.
Average Click Through Rate (CTR). You can use the Google Search Console to measure the Click through rate.
In-house SEO or outsourcing?
My suggestion is to have in house the strategic and technical skills to manage the SEO and then make use of external experts that can give added value and provide the necessary labor at the right price.
Also, by making it redundant you don't create a single point of failure (SPOF), i.e. you ensure continuity of the business.
Which SEO skills and activities need to be done in-house and which ones to outsource?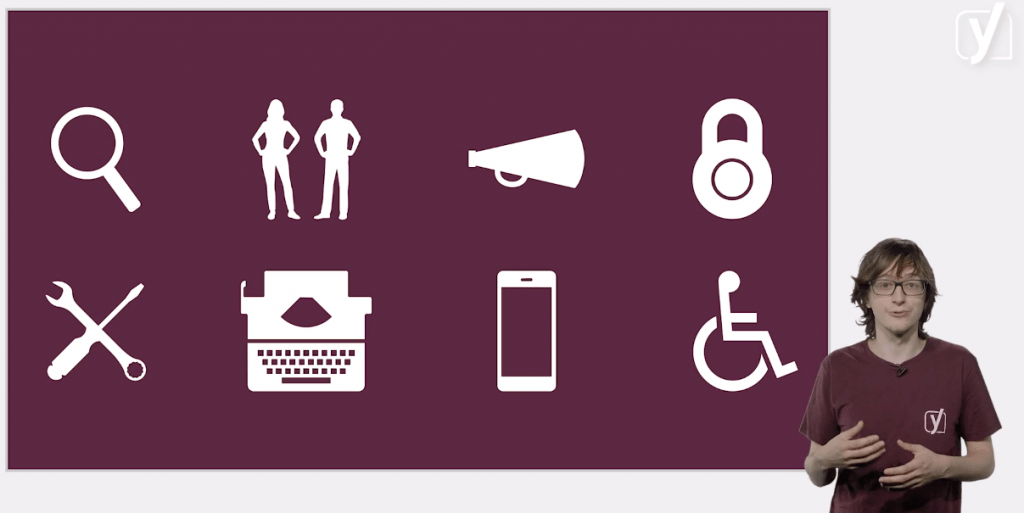 A Search Engine friendly website is result of several factors that range from SEO content creation to technical improvements of the website itself, therefore the range of skills required is quite wide.
Ideally all the resources involved in the digital and ecommerce processes should be trained to understand the essential rules of Search Engine Optimization

Digital Fashion Academy
How best in class brands like Gucci appear on Google Search Result Page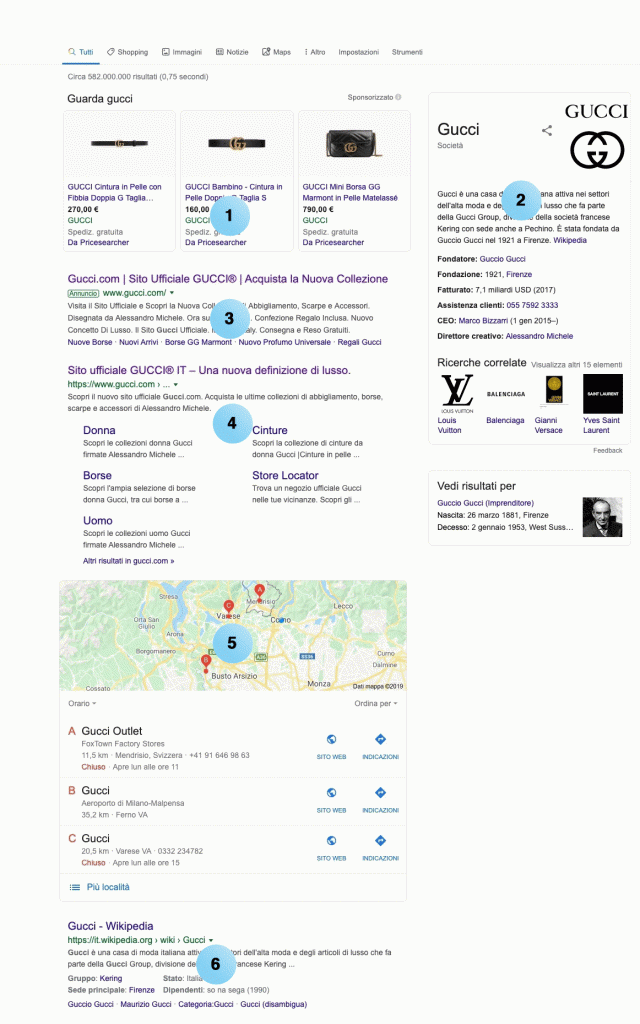 1 to 6 main SERP positions
Most frequent questions and answers
1 Paid Shopping Results
These results come from the Google Merchant Center, they are paid results and it's important for brands to be there because if they are not there, some other seller will be.
2 Wikipedia organic results
These results are organic, which means not paid for, but don't be fooled, if you don't invest to maintain your social presence up to date include the wikipedia pages, Wikipedia will not solve your problems.
3 Paid Google Ads
These are the basic Google ads, once known as Google Adwords. This is all paid traffic, you cannot avoid doing this for the same reason as above, if you don't do it, someone else will bid on your keywords.
4 Organic Search Results
The Graal of every digital marketer. Being in the first position of the organic results on Google it's a must for every brand.
5 Google Maps
Every brand, or almost every brand, has a physical presence, which mean bricks and mortar point of sales, which can, ad should be added to Google Maps by using Google MyBusiness.
6 Other search results
After the local search results there are usually the social links to the brand properties such as Facebook, Instagram and LinkedIn